---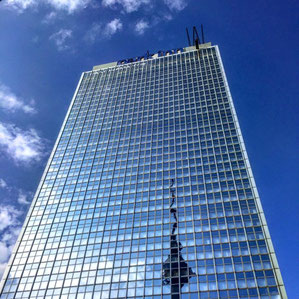 Berlin 7 hours drive to the east from The Netherlands.
The capital of Germany, we live in Europe but we've never been to this city.  So in July 2015 we finally visit Berlin! 
We stayed at the Park Inn by Radisson Alexanderplatz. A beautiful and nice hotel to stay. It's the tallest building and the eleventh tallest structure in Berlin in the cental Mitte district and has a height of 125 meters (410 feet).
The weather in Berlin was great at this time of the year, so we rent a bike!
I recommend everybody to do this, because it's an easy way to discover the city and it's fun to!
---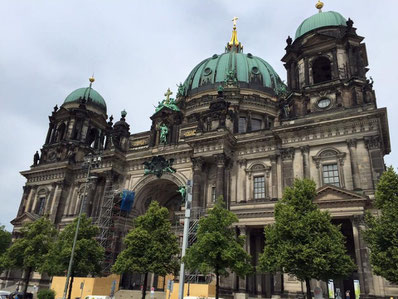 We rent a bike across the hotel (12 euro for a day) and start our day at the Berlin Cathedral (Berliner Dom).
The protestants Berlin Cathedral on Museum Island in the Mitte district is Berlin's largest church and one of the major sights in the city centre. 
Just love this monument! We didn't go inside because it was closed, but normally there are guided tours available. 
On the other side of this Cathedral you can buy a ticket for a boat tour. 
---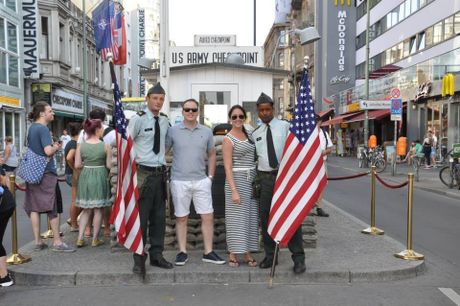 Checkpoint Charlie is the best place in Berlin.
This is the most famous crossing point between former East and West Germany. Here you can take pictures with the US soldiers. Naturally they expect you will pay them a small amount. 
At this place you can buy also old German stamps for in your passport (see my gallery). Cool! 
Near this place there is also the Museum; Berlin Wall 3D. It's nice to visit, you can get a feeling how it was during the Cold War between East and West. For pictures you can take a look at my Gallery. 
---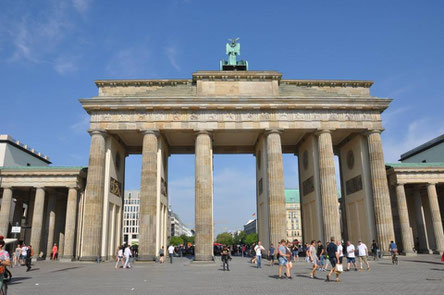 The Brandenburg Gate (Brandenburger Tor) is Berlin's most famous landmark. It's build on a former city gate and is the monumental entry to Unter den Linden, the boulevard of linden trees.
During the Cold War, when the gate was located right near the border between East and West Berlin, it became a symbol of a divided city. When the wall fall finally in November 1989, people flocked to the Brandenburg Gate to celebrate. 
Love the architecture of this building, so nice to see! 
---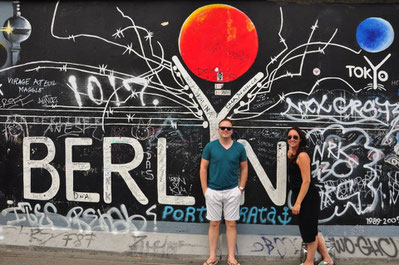 East Side Gallery is a must see when you visit Berlin. 
The Berlin Wall East Side Gallery is a 1.3km long section of the wall near the centre of Berlin. 105 paintings by artists from all over the world cover this memorial for freedom and make it the largest open air gallery in the world! 
I took this awesome shot at the East Side Gallery, you can find more colorful pictures at my gallery.
---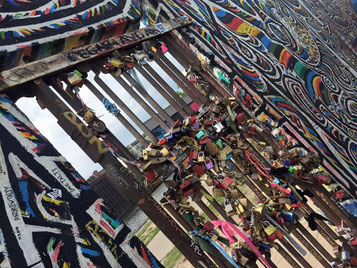 Other recommendations:
- Restaurant Dudu (sushi)
- Restaurant Piazza Rossa 
- Jewish Holocaust 
- Berlin Wall Potzdamerplatz 
- Gendarmenmarkt 
- Berlin TV Tower (Berliner Fersehturm) 
- Berlin Wall 3D museum
- Rent a bike 
---
Google maps hotspots Berlin
---
---